Hello everyone, Thekeyer here. I sat down with Pajabol and we went over his tournament experience and all the line-ups. We were fortunate enough to witness the 1st tournament played after Iron Judgement's release last weekend (5-6th Oct).
It was the Top 32 grand finale of a long EGC series. Over the course of 2 days, 32 players fought for 6 spots at the LAN event that will be held in Italy at the start of November during Lucca Comics & Games. The 6 qualified players will be fighting for prize money, while the tournament's organizers will take care of all the travel and accomodation expenses. You can follow EGC on Twitter and check out their website for more information.
---
The event was not only fascinating because of the high skill level of the qualified players, but also because of the very little amount of time everyone had to prepare. We will analyze the tournament meta, based on the decks of the Top 6 players.
Day 1 - The 1st day had 5 rounds of Swiss, where players were fighting for Top 16. To do so, they had to win at least 3 series. During both days, the official Gwent Masters conquest format was used, so 4 decks and 1 ban.
Day 2 - The 2nd day was a double elimination tournament and seeding was based on Day 1 results. To get into the Top 6, the players needed to get 3 wins. The Top 2 players of the tournament will go directly into the semifinals of the LAN event, while the other players will start in the quarterfinals.

As many have predicted, Mystic Echo Dwarf deck was an auto-include in all successful line-ups. The suprising part though, Dwarfs weren't banned that often. After their strong debut on the ladder at the start of the season, most of the top players saw an easy opportunity to target and counter Dwarfs. The core of the Mystic Echo Dwarf deck was similar in each line-up, rich in the new Iron Judgement cards. The main difference was in tech cards, mostly depending on the banning strategy. Syndicate was a common ban target, as Wild Card is a powerful ability and SY got some scary gold cards in the expansion.
For Nilfgaard, Enslave was the dominant ability, although contrary to Mystic Echo, there were many different approaches. Surprisingly enough, Pincer Manuever engine-overload NR decks weren't as popular as expected and other abilities were picked as the 4th deck, mainly Monsters with Blood Scent. Pajabol had great success with Inspired Zeal. The absence of Pincer Manuever naturally hurt all line-ups that were trying to target the NR engine-based deck.
---
Pajabol's line-up
Northern Realms: Inspired Zeal - Nilfgaard: Enslave - Scoia'tael: Mystic Echo - Syndicate: Wild Card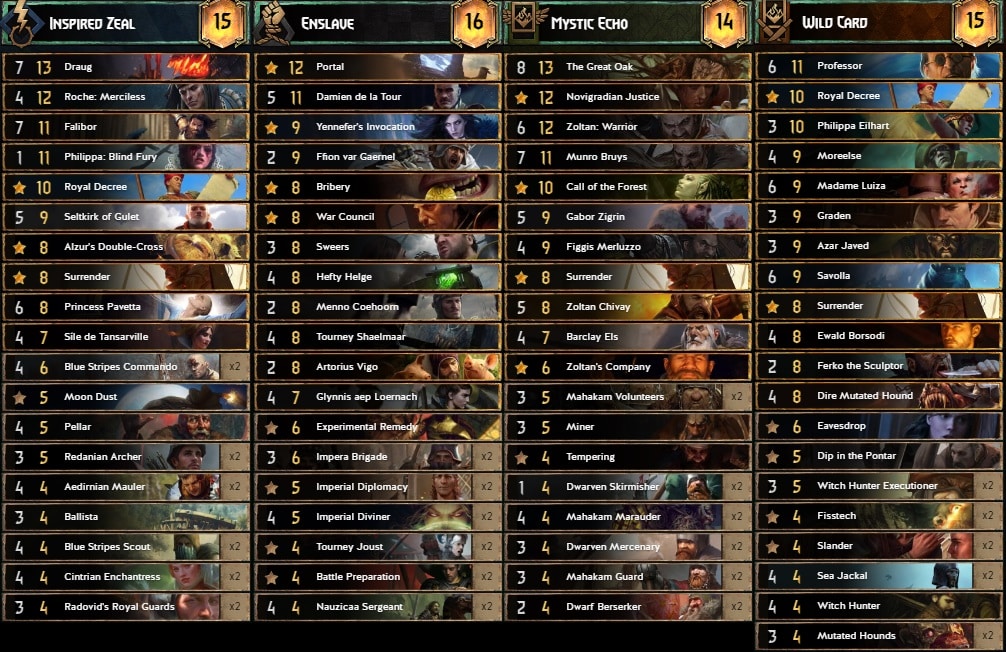 Pajabol from TLG decided to do the most sensible thing: hard-target Dwarf Mystic Echo. He did it by including Surrender and Miner in his own Mystic Echo deck, as well as choosing the Inspired Zeal deck with Surrender for his Northern Realms. His Inspired Zeal deck has effective removal tools like Falibor and Philippa: Blind Fury. Draug itself is also a wonderful tool to clean up the leftover Dwarfs. Nilfgaard's Hefty Helge was targeted with Moon Dust.
His plan was to ban Syndicate and so he chose to omit Kalkstein from his SY list. The Enslave [5] Nilfgaard deck with Portal aimed to get more points in the mirror match, without losing the ability to answer the crucial threats. Yennefer: Invocation and War Council combo was included to counter enemy Defenders and stealing power plays like Falibor. Funnily enough, Yennefer proved to be even more valuable than anticipated, due to the very greedy nature of most line-ups.
---
Kolemoen and Santtu2x line-ups
Monsters: Blood Scent - Nilfgaard: Enslave - Scoia'tael: Mystic Echo - Syndicate: Wild Card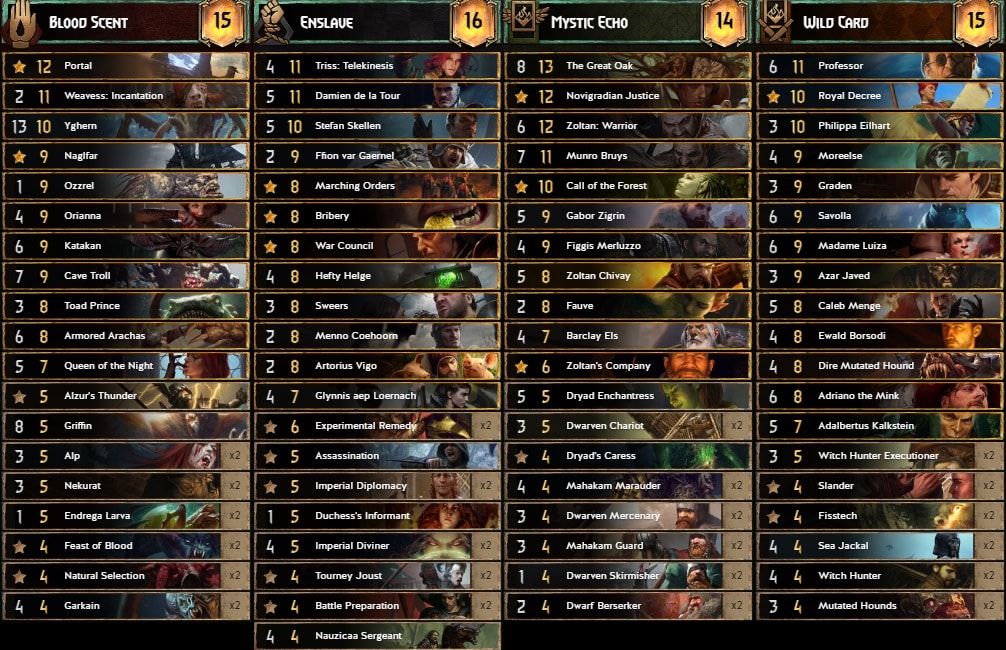 Kolemoen and Santtu2x from Team Aretuza had a nearly identical line-up. They predicted a low amount of tall removal in the tournament meta. Syndicate, always running tall removal, could easily be banned. This opened up the possibility to bring Monsters as their 4th faction, with a greedy Blood Scent deck. The Enslave [6] Nilfgaard deck focused on maximum value with Stefan alongside of Damien, while being able to control Defenders with the Seize ability. It's also worth noting that Artorius was providing the Informant option, resulting in more Assimilate procs.
The inclusion of Chariots in the Mystic Echo deck was their innovative take on the Dwarf archetype. Chariots were used to force out the opponent out of the 1st round, without committing too many gold cards. The only difference between their line-ups can be found in their Wild Card deck. Kolemoen included Kalkstein, whereas Santtu opted for the consistency of Eavesdrop over Kalkstein, while replacing one of the Witch Hunters with Dip in the Pontar.
---
CintrianLion's line-up
Northern Realms: Pincer Maneuver - Nilfgaard: Enslave - Scoia'tael: Mystic Echo - Syndicate: Wild Card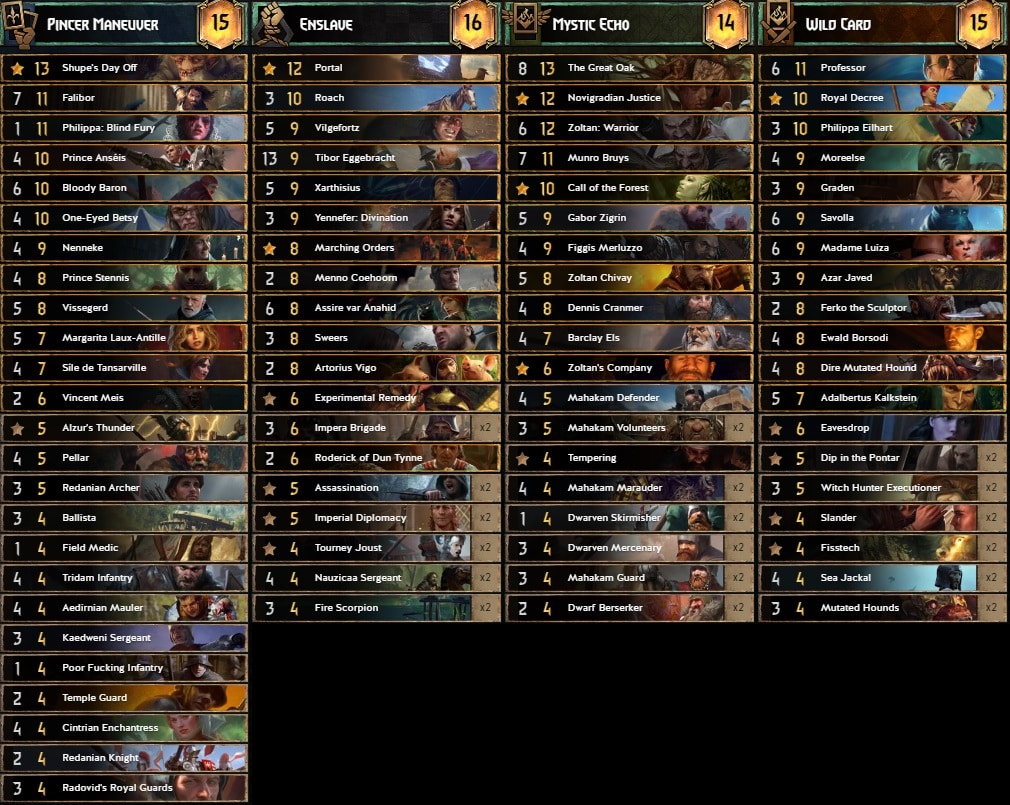 CintrianLion brought one of the most original line-ups. For Mystic Echo and Wild Card, he opted to submit the standard ladder versions. However, his Pincer Maneuver deck with Shupe was targetting both engine-overload NR and Enslave NG. Similarly to Pajabol, he included Pellar to answer Defenders. The biggest surprise was the Hyperthin Enslave [5] deck from the previous patch. It has a lot of tempo in Round 1 and a very strong short Round 3, which is useful in a tournament meta without tall removal and would work well against the usual Pincer Maneuver engine deck.
---
Andi99's line-up
Northern Realms: Pincer Maneuver - Nilfgaard: Enslave - Scoia'tael: Mystic Echo - Syndicate: Wild Card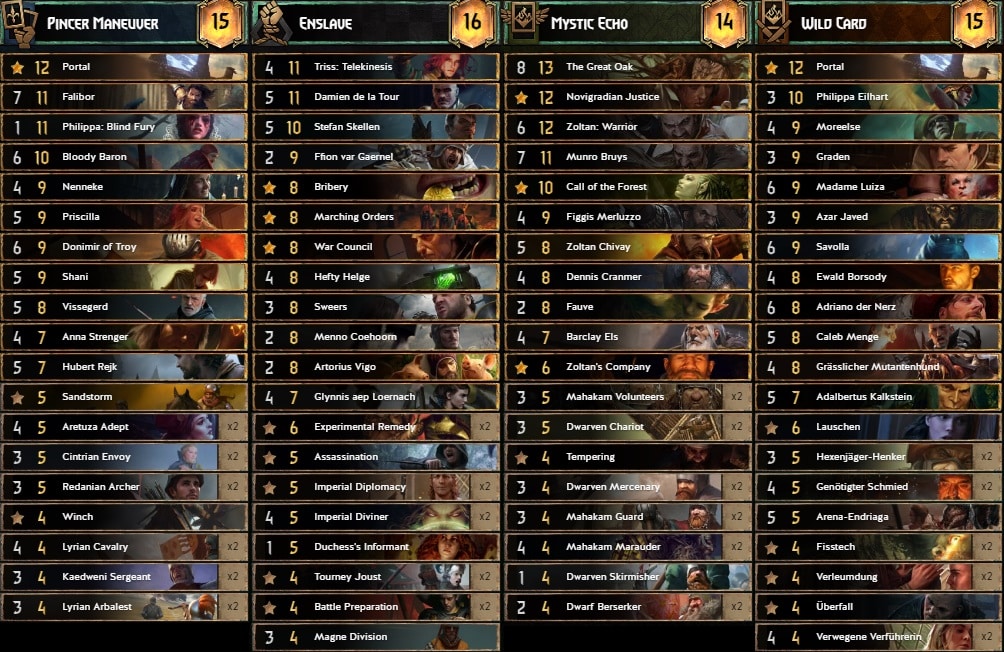 Andi99 from Team Legacy had an interesting line-up with a few twists. His engine-based Pincer Maneuver deck doesn't run Vernon Roche, which allows him to include tech cards with more conditional usage like Bloody Baron and Sandstorm. This grants him more effective control tools. He also included some boosting engines that can provide a lot of value while keeping each other alive, especially with the help of Donimir of Troy, the new Defender.
His Enslave [6] Nilfgaard and Mystic Echo Scoia'tael decks are similar to Team Aretuza. For Syndicate, he chose to keep the Seductress package with Portal and Adriano the Mink known from the last patch. This was done to potentially out-greed Mystic Echo Dwarfs with the protection of Azar Javed.
---
NingunoSirve's line-up
Monsters: Blood Scent - Nilfgaard: Enslave - Scoia'tael: Mystic Echo - Syndicate: Wild Card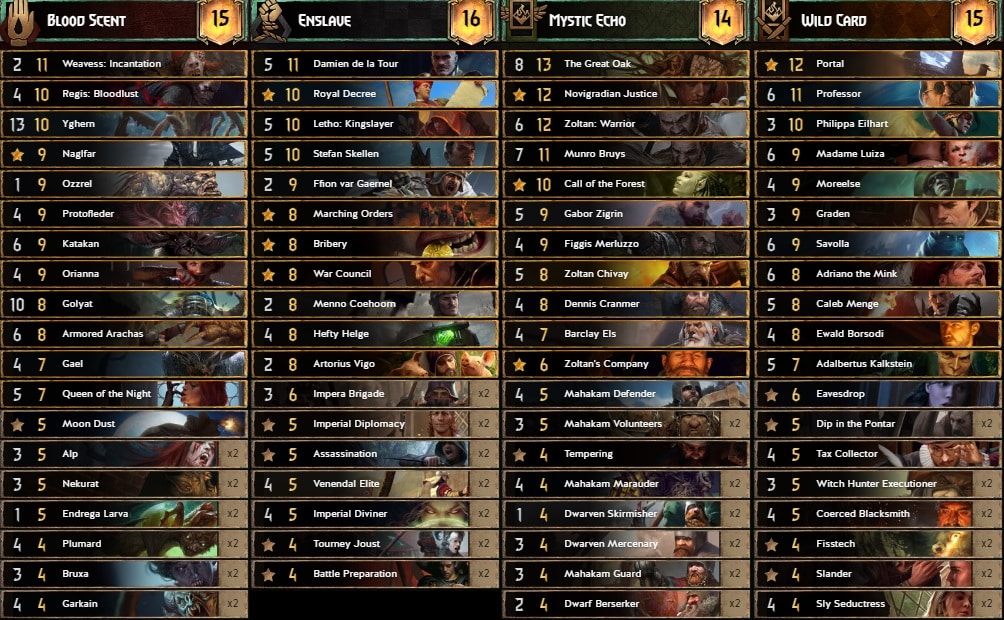 NingunoSirve from Team Nova brought the greediest decks of all. Similarly to Team Aretuza, he predicted that Vampires combined with big boys will be a good pick for the tournament meta. His approach to building the Blood Scent deck was more traditional, omitting Portal in favor of value cards like Regis and Gael. He included Moon Dust to answer Hefty Helge.
The Syndicate idea was similar to Andi's, as he used Portal in an attempt to outvalue Mystic Echo. But instead of including Azar Javed and Dire Mutated Hound, he chose to upgrade his low end cards. Ninguno's version of Enslave [6] NG was also greedier than the rest of the field, with the inclusion of Letho: Kingslayer to copy Damien or Stefan.
---
Brief interview with Pajabol
Thekeyer: What was your methodology to prepare for the tournament in such a short time?
Pajabol: I didn't have any time to prepare, since I just started my university studies when the patch came out. I sat down with Spyro and Hippo on the last day before the tourney to discuss our decks. Shoutout to Green-Knight, who helped me a lot with the preparation for Day 2. I only played my Syndicate deck before the tourney. Day 1 was a learning experience for me as you could see on my stream.
What did surprise you the most in your opponent's line-ups?
Team Aretuza's Blood Scent decks were the biggest surprise. I didn't really expect that ability to appear in the tournament, and it was actually doing really well for them. Other than that, most of the decks were predictable.
What was your hardest matchup on Day 2 and why?
My most difficult series were definitely against Kolemoen and Santtu2x. They are both great players and their Blood Scent deck looked pretty scary when they were able to ban my Syndicate.
If you could change one thing in your line-up, what would it be?
I would probably change the Mystic Echo deck to a Harmony version with Dwarf bronzes. It seems that Harmony just has more value than the standard Dwarf deck and also isn't as easy to counter.
How will you prepare for the LAN event in Italy?
I will try to prepare with my teammates and play some games on the ladder. Sadly, the LAN event will be held right after another patch. I am hoping there won't be any drastic changes, so we don't have to start from scratch like this weekend.
---
About Thekeyer
Thekeyer has been a Gwent player since the early days of closed beta and still has a big passion for the game and its esports scene. Professionally he is working in IT, privately he is a father, a husband, a gamer and a huge Sci-Fi nerd.